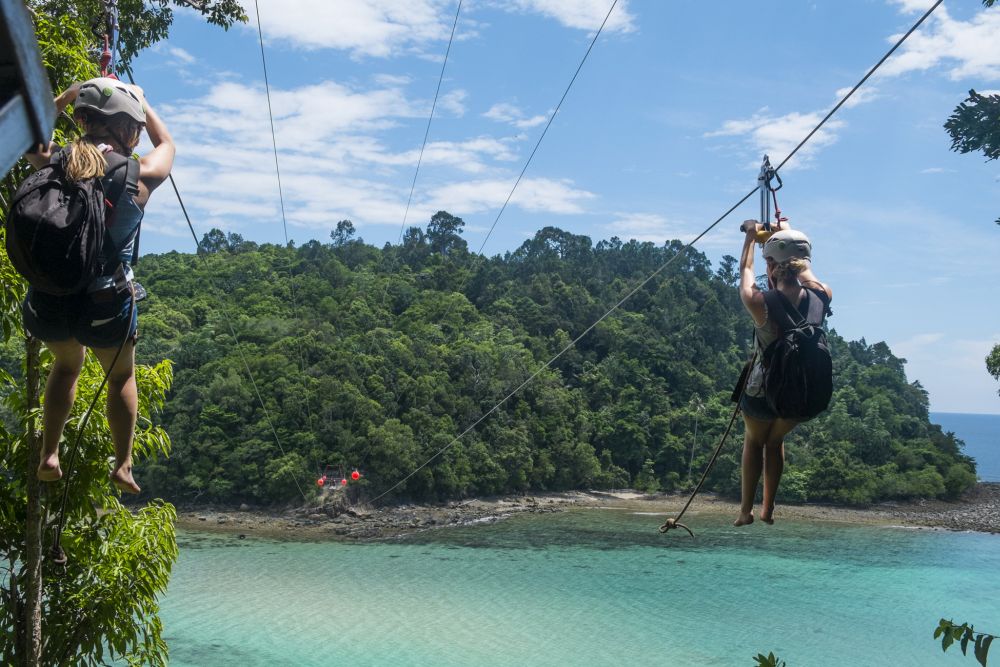 Diving , Island , Nature
Tunku Abdul Rahman Marine Park ~ Coral Flyer Zipline
Challenge Level:

Tour Code:

BA05

Duration:

6 hrs

Destination:

Sabah
The Marine Park is a cluster of islands; Pulau Gaya, Pulau Sapi, Pulau Manukan, Pulau Mamutik and Pulau Sulug. Pulau Gaya hosts the Gayana Eco Resort, Bunga Raya Resort and the Gaya Island resprt by YTL. Visits to these premises require prior bookings. Pulau Sapi, Manukan and Mamutik host beach activities as well as snorkeling and diving. Island tours can be booked on the spot at the Jesselton Jetty except for diving which requires prior arrangements with a dive center. Island hopping is also an alternative.
Share this with your friends!
0900 hrs: Pick up from hotel and transfer to jetty. Board a 15-minute ferry ride to Sapi Island, one of the five islands of Tunku Abdul Rahman Park.
The "Coral Flyer" is Sabah's newest tourist attraction. It is the World's Longest Island to island Ziplineand has just opened in Tunku Abdul Rahman Marine Park. It stretches for 250 metres across the channel that divides Gaya and Sapi Islands. There are two lines allowing riders to go down in pairs and reaches speeds of up to 60km. The adventure starts at Gaya Island and takes you to the ending point on Sapi Island.
The Coral Flyer ticket desk is located on the jetty at PulauSapi, we share with Sabah Parks. You will be asked to sign a liability waiver, issued with a ticket and will then proceed out onto the jetty where our boat will transfer you to Padang Point on the island of Gaya. It is a short walk to the harness station, where our staff will fit you with a harness and helmet and issue you a zipline trolley. There will then be a short climb through the fantastic forest to the launching platform and Zip back to Sapi.
Spend the day for your own leisure at Sapi Island: Go swimming, snorkelling or just laze yourself or suntan at the white sandy beach. After lunch, continue your free leisure time before departure. Barbecue lunch is included.

1500 hrs: Board boat from island jetty to Kota Kinabalu mainland and transfer back to hotel.
Price from RM225.00 per person (Minimum 2 persons).
* Offer valid till 31 March 2018.
Hotel Pickup & Drop off
English Speaking guide/ driver
Entrance fees
Life jackets
Mask & snorkel
BBQ Lunch
Insect repellent
Drinking
Water
Hate
Sun block
Camera or video
Swim wear
Towel
Good waking shoes and bathtub
Restrictions:
Maximum weight - 120kg / Minimum weight - 40kg
There is no minimum age though the child has to be abke to fit our child's harness (usually 6 years and up ) we are able to bring children on a tandem rig with one of our staff ay standard fare.