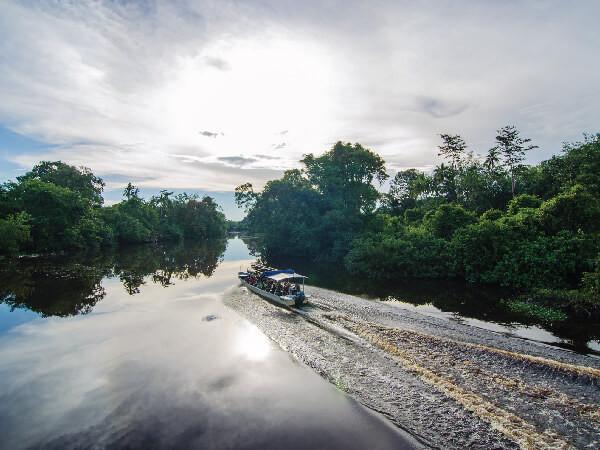 Adventure , Nature , Wildlife
Klias Mangrove Wildlife & Fireflies
Challenge Level:

Tour Code:

BA17

Duration:

7 Hours

Destination:

Sabah
Located on the Klias Peninsula isthe Klias Wetland, a Mangrove Forest Reserve. With the bizarre-looking proboscis monkey gaining as much popularity with the tourists as the orang utan, the Klias Wetland with its large proboscis population is fast becoming the latest ecotourism destination in Sabah.
These tree-dwelling animals normally hunt for food in the evenings so many boat cruises depart the Kota Klias jetty at around 3.00pm. Other riverside residents that may be spotted are macaques, crocodiles, monitor lizards, tree snakes and birds such as the eagle.
Back on the jetty, enjoy a natural light show when hundreds of fireflies put on a glowing performance for your benefit.
Share this with your friends!
Pick up from hotel lobby between 1400hrs and 1430hrs and transfer overland to Klias Forest Reserve. The journey will be along scenic coastal roads and picturesque villages. Arriving at the Klias River village jetty at 1600hrs, coffee, tea and Malay cakes and cookies will be served. At approximately 1645hrs, the river cruise in search of wildlife such as the proboscis monkeys, varieties of birds, monitor lizards, crocodiles, etc. will commence. Return to the jetty at 1830hrs where traditional Malay buffet dinner will be served. As dusk sets in, reconvene your short river cruise to observe the flickering fireflies lighting up the river banks. At 1930hrs, transfer back to Kota Kinabalu.
From RM190.00 per person (Minimum 2 persons).
* Offer valid till 31 March 2018.
Return land transfer
Boat cruise
Life jackets
English Speaking Guide
Outdoor long pants and sleeves
Hat
Snickers
Camera
Binoculars
Disposal raincoat
Insect repellent
Surcharge may apply if pick up is outside of city center.
This is a nature based tour, therefore the weather elements will always be considered for the comfort and safety of all guests. In the event of adverse weather, we reserve the right to cancel or postpone the trip. The company will not be liable for any compensation.