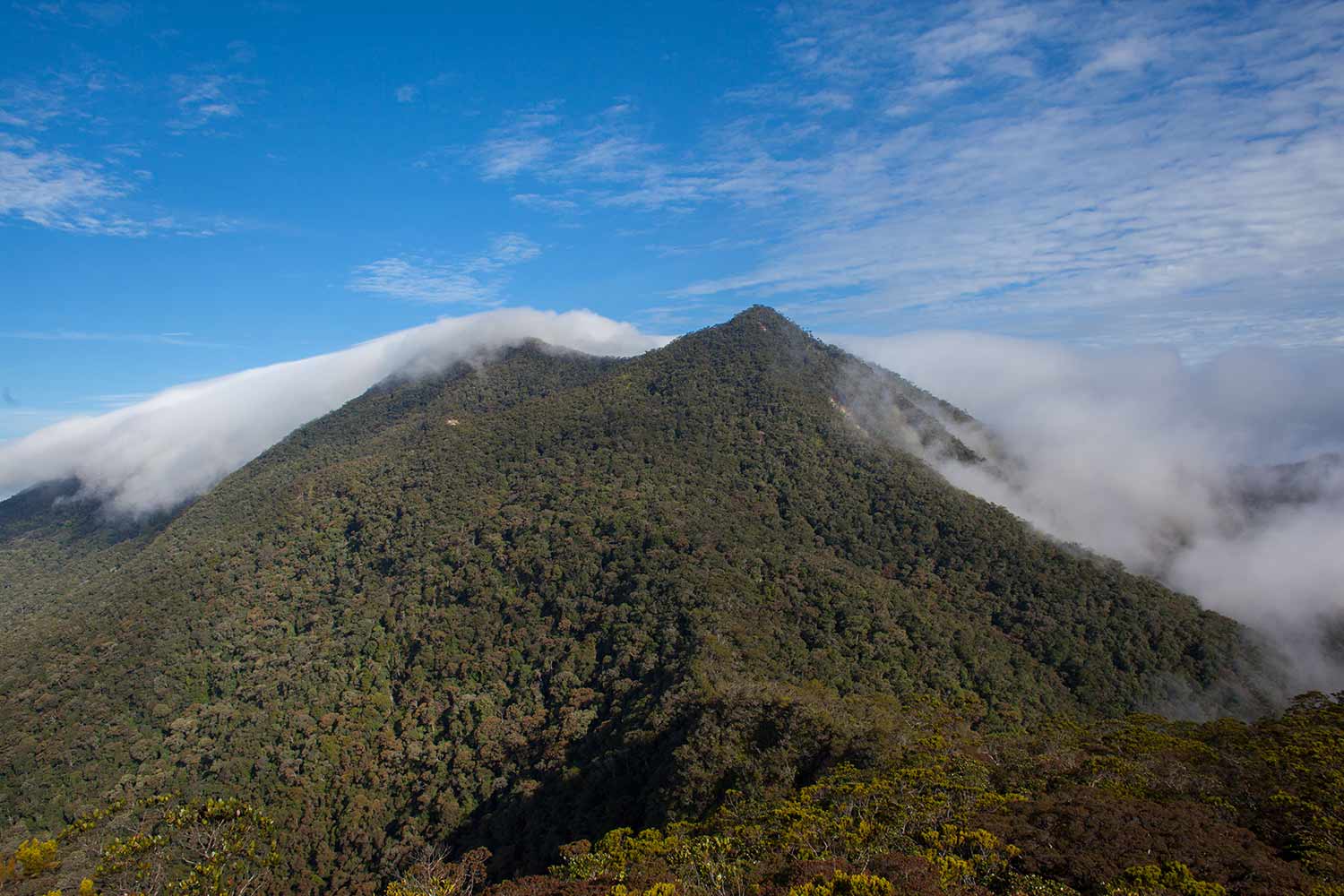 Adventure
2D1N Mount Trus Madi Climb
Challenge Level:

Tour Code:

BA20

Duration:

2 Days 1 Night

Destination:

Sabah
Mount Trus Madi, 2,642 meters (8, 668 feet) tall is the second highest mountain in Sabah and Malaysia after Mount Kinabalu. There are 3 trails that leads to the peak of Mt. Trus Madi that is, Kaingaran Trail, Mastan Trail and Mannan Trail. Mount Trus Madi used to required hight fitness level and determination to concquer it for its difficulty, but after wooden walkway and resthouse was constructed by Frostry department in 2015, Kaingaran Trails turned into trail which can be conqured even a biginner. To reach the summit from the starting point, climbers will be traking about 2.2 kilometers of wooden walkway on the 1st day and continue 2.7 kilometers of heavily foliaged virgin rainforest on the next day. You will be fascinated by the beauty of pristine forest and welcomed by thousand of Nepenthes along the nature trail. On interesting thing to spot is the unique pitcher plant, Napenthes x trusmadinesis - natural hybrid between Nepenthes lowii and Napenthes macrophylla which is edemic to Mount Trus Madi alone.
Share this with your friends!

Day 1
0930 Meet your driver at your hotel/hostel (or designated meeting point) and depart Tambunan Town.
1100 Arrive at Tambunan Town and take lunch at local restaurant.
(*Restaurant is not designed for foreign tourists. Please bring food if you have any concern over local dishes)
1200 Meet your mountain guide, and you will be transferred to Forestry gate by 4WD car.
From the halfway throught this journey, you will drive through very gravel and bumpy road.
1300 Arrive at Forestry gate and get off from 4WD car for registration and briefing from Forestry department staff.
1340 Arrive at starting point (Taman Kitingan) and star trekking on wodden walkway untill Resthouse.
1630 Arrive at resthouse and free and easy untill dinner.
1800 Have a dinner at resthouse
Go to bed and take enough rest.


Day 2
0130 Have a simple breakfast
0200 Start the journey toward the highest peak, Taman MANAN point (2619.8m).
0600 Arrive at Samadi point (2585m). There is small observatory tower which you can climb and take picture.
Continue the journey toward Taman MANAN.
0700 Arrive at Taman MANAN point (2nd tower) and take a short rest.
0730 Decend to Resthouse.
1000 Arrrive at Resthouse and take a short rest.
1130 Have lunch at Resthouse.
1230 Trek down to starting point.
1400 Arrive at starting point and transferred back to Tambunan Town.
1500 Meet with your guide and depart to Kota Kinabalu. It takes approximately 1.5 hours.
1630 Arrive at your hotel/hostel (or requested drop-off) in Kota Kinabalu
| | | | |
| --- | --- | --- | --- |
| | 1 Pax | 2-3 Pax | 4 Pax and above |
| International | RM 2480 nett | RM 1360 nett | RM 1180 nett |
| Malaysian | RM2380 nett | RM 1260 nett | RM 1130 nett |

* Offer valid till 31 March 2018.
Package Includes :
Return transfer (Kota Kinabalu-Tambunan Town), Return transfer (Tambunan Town-Starting Point), Mountain Guide, Climbing Permit, Climbing Insurance, 1 Night stay at Resthouse, Certificate (*Certificate not guaranteed. Forestry department is likely to fail to issue it in time.)
Package Exclude :
Beverage, Porter fee, Luggage keeping fee, Travel Insurance, Airfare, Credit Card bank charges/Inter-transfer bank charges. Thing not stated above.
Small backpack, Passport, Shoes with good grip, Warm clothing like sleeves/hiking pants, Jacket/windbreaker, Extra clothing, Tissue paper/toilet roll, Personal toiletries, Refillable water bottle, High energy food, Small towel, Hand gloves, Raincoats, Head torch, Rain cover, Sun block lotion, Insect repellent, Camera, Sandals/slippers, Plastic bag, Sunglass
Helpful tips
The trail between Resthouse and Manan Point includes muddy parts that get your shoes wet and dirty as well as steep parts that require you to hold onto rope.
Basically, there is no leech on the trail so you don't need to wear leech sox.
All facilities and meals are very basic juct like B&B. Please do not expect any luxury.
Important notes
Please be informed that your passport is required for verificaion during registration at Frostry gate.
Taking a flight on the same day you descend the mountain is not recommendedable due to possible delay from traffic and weather conditions.
All transportation services are on sharing basis.
Accommodation info
Accommodation is based on Non-Heated Dormitory Bunk-bed with sharing bathroom and toilet. (Bathroom and toilet are very basic).
Unlimited bottled water will be provided at Resthouse.
Meals info
Simple meals will be prepared by the mountain guide.
Transportation info
All transportation services are on sharing basis.
Return transfer (Kota Kinabalu-Tambunan Town) will be done by guide cum driver.
Some parts of the road are gravel and bumpy road that required 4WD to drive through.
Since we may have other pick up from multiple hotels, you might experience some delay. You can reach our staff by emergency number for further assistance @ +60-13-850-3285.